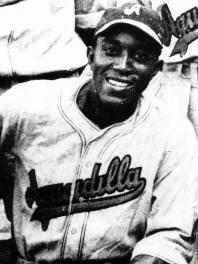 "If we had one game to win, we wanted Leon to pitch." — Monte Irvin

So much of Leon Day's story is caught up in his last years and his long wait for the Hall of Fame call. For Leon, who spent a lifetime exceeding at his professional calling, punching his card at every level of baseball but one, the word from the Hall came in what were to be his final days. "I thought this day would never come. I'm feeling pretty good," he said when he received word from the Hall at his hospital bed on March 8, 1995. "I'm so happy, I don't know what to do. I never thought it would come." Leon was joined that day in the hospital (where he had been admitted for diabetes and heart troubles) by his wife, family, teammates, and friends to share the good news of his induction with him.

There had been times when he said this accolade was not important. He had said as much about the money, too. "When they told me they was gonna pay me to play baseball, I said they must be crazy. I said I'd play for nothing."   He valued his career in the Negro Leagues, especially knowing that it gave him the memories and sense of accomplishment it did. "I was glad to play in the Negro Leagues. I wouldn't trade it for anything in the world." However, in a 1992 interview in conjunction with his throwing out the first ball at a September 24, 1992, Baltimore Orioles game, Leon acknowledged that "it would mean a lot to me to get into the Hall of Fame, to be grouped with some of the greatest players in history."

In the end, the call meant everything to him, perhaps giving him the impetus he needed to enter the next world. For Leon died on March 14, 1995, at the age of 78, five days after he got word of the ultimate honor. "I think that's what he was waiting for," said his sister Ida May Bolden. And so it was his wife, Geraldine, who tearfully spoke on his behalf at the induction ceremony in Cooperstown that summer, surrounded by the many Hall of Famers on stage Leon wanted to have as peers.

With his induction, Leon Day became the12th Negro League representative in the Hall and the first to be voted in since 1987, when Ray Dandridge was inducted.

Timing is everything or nothing, and Day's overdue induction in 1995 came after an increasingly more demonstrative campaign on his behalf over several years that finally bore fruit. In 1993 Leon fell one vote shy in Veterans Committee deliberations, star-crossed by the unfortunate absence due to sickness of Veterans Committee member Roy Campanella (a former Negro leaguer himself and three-time MVP for the Brooklyn Dodgers). In 1995, the votes were there.

***

Leon Day's signature was the matter-of-fact, low-key manner through which he approached his craft. This was evident both in terms of his pitching style and his personality.

Day was often overshadowed by more colorful players. Most notable was Satchel Paige, whom, records show, he defeated in three of four head-to-head pitching contests.   Paige's delivery was over the top, both in terms of mechanics and showmanship. In the eyes of some, it was all about self-promotion. Day himself said of Paige, "Satchel was more flamboyant. He stood out in a crowd. Me, I just did my job. I didn't open my mouth." Max Manning, a former Newark Eagles teammate of Day's, said, "If Satchel Paige is like the Negro League icon, Leon Day is the warrior." 

When it came to Day's pitching, his famous no-windup delivery was his trademark. It masked an intensity and effectiveness that likely won him around 300 games. "Day could throw as hard as anyone. I didn't see anyone in the major leagues who was better than Leon Day. If you want to compare him with Bob Gibson, Day had just as good stuff. Tremendous curveball and a fastball at least 90-95 miles an hour. You talk about Satchel. … I didn't see anyone better than Day." These were the words of Larry Doby, who played alongside Day on the Newark Eagles and who later broke the American League color barrier by joining the Cleveland Indians in 1947 after Jackie Robinson debuted with the Brooklyn Dodgers in the National League.

The Satchel Paige comparison was common—on all levels. Paige's flamboyance versus Day's quiet, workmanlike approach; Paige's tall stature versus Day's 5-feet-8, 170-pound frame; Paige's self-promotion versus Day's reluctance to draw attention to his exploits. And perhaps most important, the infrequent but remarkable head-to-head competition that had Leon winning three of four games against Satchel. 

Leon admitted that he did not remember the details of that many of his games, but he did recall the Paige/Day matchups. "I faced him about four times. I beat him three. They were all low-scoring games. … [In one game] we were playin' and the score was 0-0. My team wouldn't get me a run, so I came into the ninth inning, got lucky, and hit a home run to win it 1-0."

According to Negro league historian Todd Bolton, "He was never a self promoter. If he were, he might have been elected [to the Hall of Fame] years ago. But he was a humble man and let his record speak for itself." In Leon's own words, "I could hold my own."

Buck O'Neill's "scouting report" on Day, filled out on a Kansas City Royals scouting form years later described his pitching as follows, "Front line starter, short arm type, everything quick, strike out pitcher, very durable, worked with three days rest, played 2B or LF between starts, top athlete, very desirable." O'Neill's reference to short-arming merits a little more elaboration.

Gene Benson, an infielder with the Philadelphia Stars and a friend of Day's, described Leon's pitching method of throwing the ball from his ear, as he did when he was an infielder when playing as a youth in Baltimore's Mount Winans neighborhood. This short-arming, as it was called, went something like this, according to Benson: "He threw that ball more or less from his hip. He didn't rear back and come right over his shoulder. He came right from his thigh, but he would whistle the ball and make it move. He could bring it!" Day admitted the motion was not natural. "I think I pitched that way from the way I threw the ball from second base. I think that's where it came from." After a dozen years of professional ball, with only sporadic play during his time in the armed forces, the delivery might have expedited his arm troubles in 1946.

Leon, like many Negro League pitchers, played on his "offdays." Second base, left field, center field—Leon provided good, consistent fielding and a decent bat to go along with his pitching every third day. Monte Irvin said, "He's played center field as good as or better than or starting center fielder did. The center fielder at that time was me."

A 1939 story by Jimmie Eben in his Sports the News column underscored Day's role and value to the Newark Eagles. "Now in his sixth year of the National League competition, Day has turned out to be the handiest man on any club, a man who can cover almost any diamond assignment with especial regard to wielding that ashen club. Since the opening of the season, Leon has gone from his rightful perch on the mound to center field, to second base, and back to the pitching box." Eben went on to describe the holes Day filled when players went down, giving Eagles manager Biz Mackey the flexibility he needed to keep the team going.

***

Born in Alexandria, Virginia, on October 30, 1916, Leon Day was of an age to take part in some stellar years of the Negro Leagues, from 1934 to 1946. Yet, as fate would have it, the color line was broken too late and he was too old to be seriously considered for the majors. His only chance might have come just as he returned from his military service. As the story goes, Jackie Robinson asked Leon to join him in the Dodgers organization with the Montreal Royals in the spring of 1946. Leon demurred, having already signed with the Newark Eagles so that he could return to his old ballclub, which had been very good to him over the years. Who knows what might have happened for Leon had he joined Robinson in Montreal?

Looking further back in Leon's life, to his earliest years, it was his family's move from Alexandria to Baltimore when he was 6 months old that would pair him forever with what would become one of his two hometowns—Baltimore (with Newark as the other). His father, Ellis Day, got a job at the Westport glass factory so that he and his wife, Hattie, could make enough to help raise their six children. They lived in nearby Mount Winans, then a poverty-stricken, all-black community in Southwest Baltimore in a house with no electricity or running water. For Leon, baseball became an early fixture. He would do anything to see the Baltimore Black Sox play at Maryland Baseball Park in Westport (another Baltimore neighborhood). "I had to go over the fence, under the fence. … I got in there some kind of way," he said. 

By the time Day was 12 he was playing with the Mount Winans Athletic Club. He was good at ball and in the tenth grade, much to the disappointment of his mother, he left Frederick Douglass High School because it had no baseball team. This was 1934, when Day was 17. He began playing with a semipro team, the Silver Moons, and soon his second base and pitching skills caught the attention of Rap Dixon, the manager of the Baltimore Black Sox. Dixon signed Day to play the rest of the 1934 season with the Black Sox, who were now playing in nearby Chester. For Day the significance of this move was the mentoring he received from Lamon Yokeley, a pitcher for the Black Sox. Said Day, "In his prime, Yokeley was one of the best pitchers in black baseball. I saw him pitch an exhibition game against the Philadelphia Athletics … and he shut them down." One can only imagine the tutoring that an impressionable teenager received about the Negro Leagues and pitching.

The instability of the Black Sox franchise led Dixon, Yokeley, and Day to jump to the Brooklyn Eagles in 1935. Ben Taylor, the Eagles manager, liked Day's pitching and used him almost exclusively as a starter. The luxury of being able to refine his delivery and pitch consistently must have helped Leon; he pitched a one-hitter that year, compiled a 9-2 record, and pitched in his first of seven Negro League All Star games. Max Manning, his teammate of five seasons, recognized early that Day's fastball-curve- changeup assortment was lethal. "Leon brought a lot of intangibles to his game—his tenacity in going after hitters, his speed and quickness in fielding the ball, and his dedication to the game," Manning said. Doubtless Manning appreciated this as it propelled the Eagles into the upper echelon of the Negro Leagues for quite a few years.

The Eagles moved to Newark in 1936 and there they stayed – and Day with them for much of the next decade, save for arm troubles in 1938, brief stays with Philadelphia and Homestead, his brief foray in search of a higher salary to Vargas, Venezuela, and then Vera Cruz, Mexico, in 1940 (where he helped both teams win their league championships), and then military service. As for 1938, Leon told the story this way: "Well, I was in Cuba in the winter of 1937. I was playing in Cuba, and I'm in the shower and I slipped and caught myself with my right arm. I felt something pull right then. Then, in '38, when I came back, my arm was messed up."

***

Negro League seasons were short, at 40 to 60-plus games, only about a third or more the length of a 154-game major-league schedule. That did not mean there was no other baseball to be had for Leon and his peers. The rest of the time was filled with barnstorming exhibitions, sometimes against a mix of major-league talent, and invariably winter-league ball. For Leon, Puerto Rico and Cuba were his offseason havens. The records that exist show that he played for Almendares (1937-38) and Santiago (1947-48), winning two-thirds of his games. Statistics are spotty for these campaigns, but Day's Puerto Rican sojourn is the stuff of celebrity. He played winter ball for six years in Puerto Rico, most notably with the Aguadilla Sharks. Records show that he went 34-26 for the team, struck out 19 in one game in 1939-40 (a Puerto Rican baseball record), batted over .300 each year, and struck out a league record 168 in 1941-42. In 1993 the Puerto Rico Baseball Hall of Fame stole a march on Cooperstown and inducted Leon in recognition for his exploits.

Day's decade of Negro League excellence had several signature moments. Best of all, according to Leon himself, was 1937, which he considered his best all-around season. A 13-0 record and 3.02 ERA went along with his .320 average and eight home runs. The Eagles and their all-star (million-dollar) infield of Ray Dandridge, Willie Wells, Dick Seay, and Mule Suttles came in second to the Homestead Grays, led by Josh Gibson and Buck Leonard.

On July 31, 1942, Day set a Negro League record by striking out 18 Baltimore Elite Giants in a one-hitter. The only hit was a bloop single by Pee Wee Butts to short left field.

Also in 1942, after Game Three in one of the quirkier Negro World Series stories, Cum Posey, owner of the Homestead Grays, signed four players (three Newark Eagles and one Philadelphia Star) to fill out a depleted roster. The primary signing was Leon Day, who pitched Game Four (the Grays were down three games to none at the time) against Satchel Paige. Day pitched a complete-game five-hitter and won, 4-1. The game was subsequently protested by Kansas City and overturned by league officials because of Homestead's use of ringers. Game Four was replayed and won, along with the Series, by the Monarchs.

The Pittsburgh Courier, one of the most respected African American papers covering the Negro Leagues, ranked Leon Day ahead of Paige as best pitcher in 1942 and 1943.   In 1942 the article naming its All American Team for the Negro Leagues said, "Leon Day is the best pitcher in Negro baseball … despite the fact he is used daily either as a pitcher, outfielder, or infielder." And again in 1943 the Courier named him the "outstanding moundsman in Negro baseball [over Satchel Paige]."

Much is made, and for good reason, of Ted Williams, Bob Feller, and others who sacrificed the prime of their baseball careers for their country. Leon Day belonged to this fraternity, too. He was drafted into the Army on September 1, 1943, and served America during the Normandy invasion and its aftermath.    Leon served with a segregated amphibious unit (the 818th Amphibious Battalion), and helped land supplies at Utah Beach on June 12, six days after D-Day. "I'll never forget June 12. I lost a lot of good friends," he said. 

Day served until February 1946 and while under military orders, wore a second uniform as a pitcher for the integrated Overseas Invasion Service Expedition (OISE) All Star Baseball team, an aggregation run by Philadelphia Phillies pitcher Sam Nahem that competed against teams from other units. Leon later confessed, "Until spring training in 1946, the only time I pitched was in 1945 in the GI World Series. I hadn't picked up a baseball before that for two years." Despite that, he and his team were good enough to play in and win the European Theater of Operations World Series against the 71st Infantry Division team featuring a number of major leaguers led by Ewell Blackwell. Day was 1-1 against the 71st in OISE's 3-2 series victory.   Records show that crowds in excess of 50,000 watched each of the games, held at Nuremberg Stadium in Germany. If barnstorming wasn't proof that Negro League players could hold their own against white players, Day's performance in Game Two of the Series, a 2-1 four-hit, ten-strikeout victory, should offer strong evidence.

Day returned to the US in 1946 in time to rejoin his Newark Eagles teammates for the season. His first game back was the stuff of legends—a May 5 Opening Day no-hitter against the Philadelphia Stars. However, Leon said that owing to the combination of a decade of pitching and two years missed because of military service, he was past his prime as a pitcher. He knew his arm didn't feel right. "It wasn't the same no more." And, in fact, he hurt his arm more in that May 5 game on a fielding play, but nonetheless finished the no-hitter to the acclaim of the hometown crowd. Remarkably, despite Day's arm troubles, he compiled a 13-4 record, led the league in wins, strikeouts, innings pitched, and complete games that year (all of this and a batting average of .469), and led Newark to the Negro National League pennant.

Despite his dead arm, Day pitched in Game One of the 1946 World Series for Newark, the Negro National League winner, against Kansas City (the Negro American League champion), but came out of the game after the seventh inning with the game tied at 1-1. The game took place in front of what might have been a major-league audition before many baseball scouts who also were seeing the likes of Satchel Paige, Larry Doby, Monte Irvin, Hank Thompson, and Willard Brown, all of whom eventually played in the majors. Day pitched in another game, but was ineffective and did not play again in the Series. Newark won the World Series in seven games, with the last matchup noteworthy due to Satchel Paige's unknown whereabouts.

The season of 1946 was not the end for Leon Day. He would go on to play in Mexico and Cuba in 1947 and 1948, drawn by the financial remuneration he could obtain. He played for the Mexico City Red Devils both seasons with an 18-20 combined record and an ERA around 4.00. "I made more money in Mexico than I did here in the States," he said. "I played about four months a year and made about $5,000." Although Negro League officials banned players for five years for going to Mexico, the ban was lifted after one year and Day returned to the US to play in what would be his last year for a Negro League team. In 1949 he returned to Baltimore to help lead the Baltimore Elite Giants to the Negro American League Eastern Division pennant and then playoff victory over the Chicago American Giants by four games to none. The following year, his journey took him to the semipro ManDak League in Canada, where he played for the Winnipeg Buffaloes. 

Perhaps the most compelling legacy that Day left in the annals of Negro League history was his record seven appearances in the East West All Star Game: 1935, 1937, 1939 (two games), 1942, 1943, and 1946. In addition to appearing in more games than anyone else, he held the record of 14 total strikeouts. This acknowledgement by the Negro League hierarchy that the All Star Game was better off with Leon in it spoke volumes.

Day's next-to-last career move in 1951 placed him for the first time in Organized Baseball, albeit the minors. He and a number of other Negro Leaguers, some young and others past their prime, are credited with the hard work of integrating the minors, just as Jackie Robinson, Larry Doby, and their peers did so on the major-league stage.

To be involved in any part of Organized Baseball at all remained important to him and when the chance to play in the minors arose, Leon signed with Toronto of the Triple-A International League in 1951, pitching in 14 games with a 1-1 record and an ERA of 1.58. He played two more years in the minors (Scranton, Double-A Eastern) in 1952 and Edmonton (Class A Western International) in 1953. This must have been an immeasurably harder task for Day and his black brethren, for they had to ply their trade at times in deeply segregated towns without the gratification of major-league status or a decent paycheck. "We didn't worry about that," he said of playing in segregated ballparks. "See, we loved to play baseball. As long as we played, we didn't care where we played."

When asked if he was upset that he did not make it to the majors, Leon said that he and other Negro Leaguers who played minor-league ball "never talked about it. We figured we were in the major leagues [by playing in the minors]. We were as high as we could go."

Day's career ended back in the semipro ManDak League, where he played for Winnipeg in 1954 and Brandon in 1955.

In the years after his retirement from baseball, Day lived first in Newark, where he worked as a bartender, and then returned to Baltimore, the town to which his family moved when he was a child. He continued to work, mainly as a security guard, and retired in 1979. A widower, he remarried and upon his death in 1995 was survived by his wife and sister.



Sources

"Leon Day: The Man Cooperstown Forgot." Sports Collector's Digest, March 13, 1992.

"Baltimore's Day had Hall of Fame numbers." Daily Mail, September 25, 1992.

"It's Day's turn to throw again." Baltimore Sun, September 24, 1992.

"Making Room for Leon Day." The Diamond, August 1993.

"Negro-Leaguer Day waits patiently for his big break." Orioles Gazette, August 13, 1993.

"Negro League Legend Leon Day Honored by Puerto Rico, Not U.S." Baltimore Chronicle, November 1993.

"Open the Door to Leon Day." The Diamond, August 1994.

"Day Crossed a Road Less Traveled to Cooperstown." Washington Post, March 19, 1995.

"Former Negro League star named to Baseball Hall of Fame." Baltimore Sun, March 8, 1995.

Obituary. Baltimore Sun, March 14, 1995.

Hogan. Lawrence D. Shades of Glory: The Negro Leagues and the Story of African American Baseball. Washington: National Geographic Society, 2006.

Holway, John B. Blackball Stars. Westport, Connecticut: Meckler Books, 1988.

Holway, John B. Black Diamonds. Westport, Connecticut: Meckler Books, 1989.

Laverro, Thomas. The Encyclopedia of Negro League Baseball. New York: Facts on File, 2003.

Lester, Larry. Black Baseball's National Showcase: The East-West All-Star Game, 1933-1953. Lincoln: University of Nebraska Press, 2001.

Peterson, Robert. Only the Ball Was White. New York: McGraw Hill, 1970.

Riley, James A. The Biographical Encyclopedia of the Negro Leagues. New York: Carroll & Graf, 2002.

Riley, James A. Dandy, Day, and the Devil. Cocoa, Florida: TK Publishers, 1987.